Helmet Halo Announces Official Launch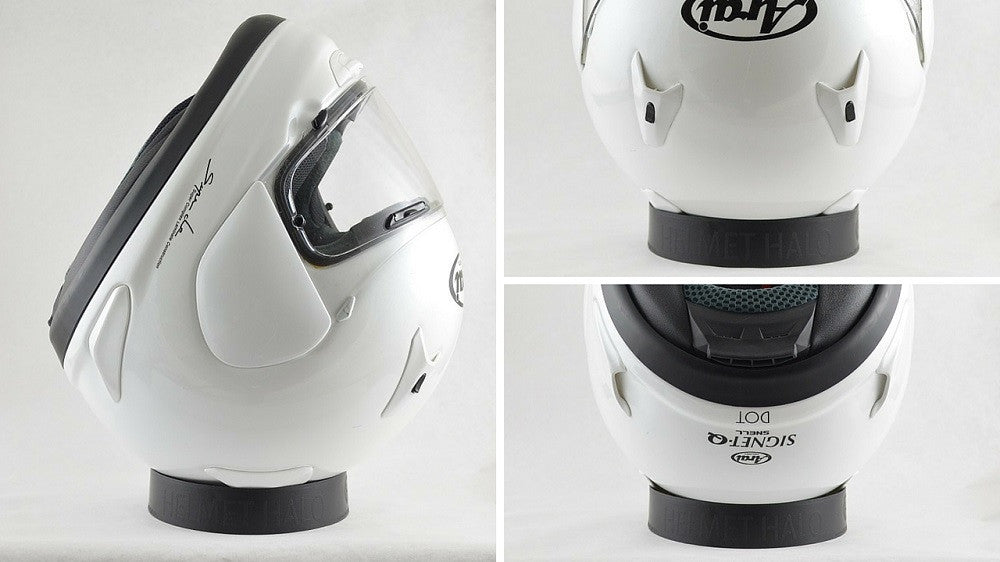 Conceptualized in the summer of 2012, after cracking his mouthpiece vent, David Turner developed the first-ever portable motorcycle helmet stand, the Helmet Halo, which is now available for purchase online.
"My helmet was one of my greatest investments, just after my motorcycle, so I knew there had to be a way to protect it and prevent other damage in the future without costing riders like me a fortune," explains Turner.
After two-years of development in 2014, Turner filed a Utility Patent Application with the USPTO and designs were drawn up for a 3-D printed prototype. This prototype enabled Turner to make the first 'usable' Halo from silicone, allowing for a lightweight and simple solution.
Turner took the motorcycle helmet stand to be shown at the AIM Expo, receiving positive feedback from multiple motorcycle helmet manufacturers and several distributors. This 'proof of concept' led to the final designs for a tool that could produce up to 1 million pieces– Motovate followed suit by launching Helmet Halo in March.
The Halo is now officially available globally for customers online.
Made from Thermoplastic Urethane (TPU) which offers durability and "coiling" feature, which allows for easy travel while maintaining structural integrity. To use the Halo all riders need to do is place it on a flat surface, remove his or her helmet, and cradle it in position.
The Helmet Halo is currently available online in three colors and is priced starting at $17.95 with international shipping options available for customers.
It is manufactured in the United States and is based in Asheville, North Carolina.
Visit and shop the full collection here.

About the company:
Motovate, LLC are developers behind the patent pending motorcycle helmet stand, the Helmet Halo. The company is owned and operated by Halo designer, Dave Turner. The Helmet Halo is the company's flagship product and the world's first portable motorcycle stand on the market today.
For media inquiries regarding the Helmet Halo, individuals are encouraged to contact Dave Turner directly at 828-239-9904 or via email at info@helmethalo.com.
To learn more about the company or product, please visit www.helmethalo.com.
64 Responses
Leave a comment